Klape (Dalmatian harmony-singing groups) to the Madonna of Sinj Festival
Reading time: 2 - 3 minutes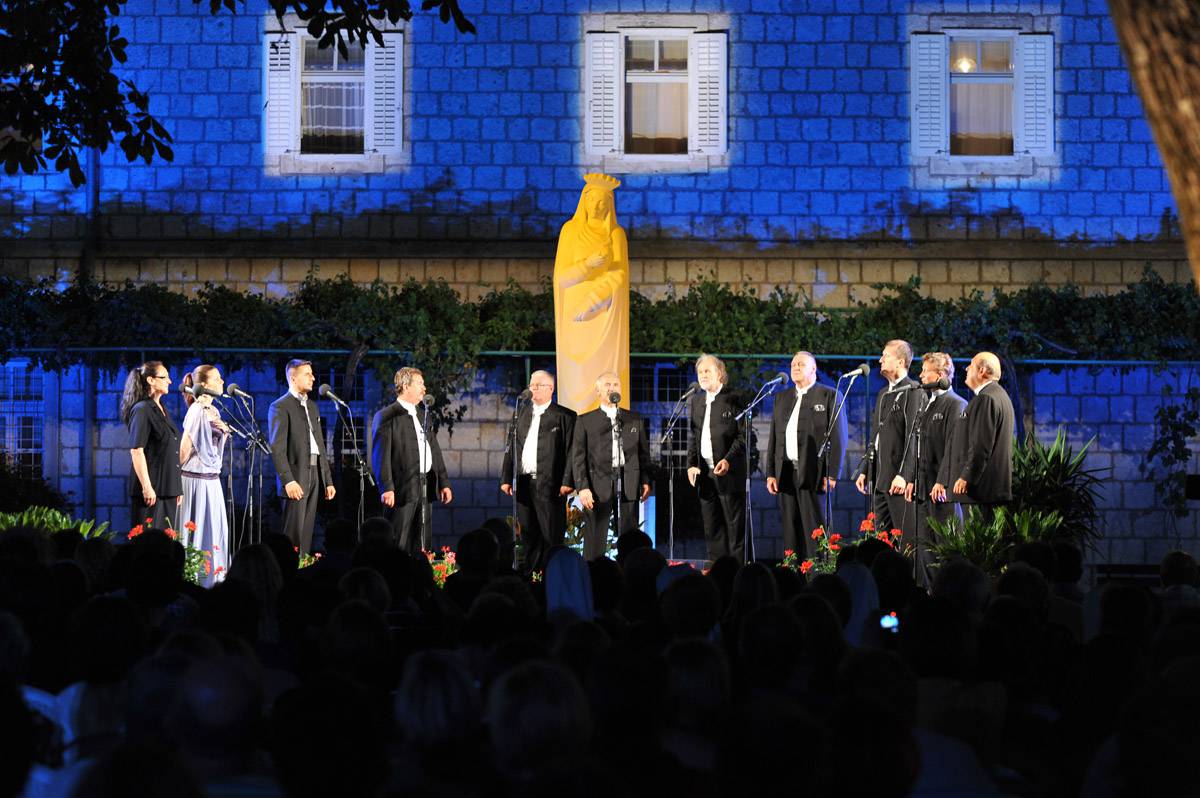 Berislav Alebić
The Organising Committee for the tercentenary celebration of the miraculous defence of Sinj, which is to be held under the auspices of the Croatian Parliament, initiated the holding of the Klape to the Madonna of Sinj Festival of spiritual harmony singing to the Virgin Mary, but it has also launched a number of projects over the seven-year preparation period for the tercentenary celebration (2015).
The Festival has been held in Sinj early in August since 2009, during the Alka and Feast of Assumption Days.
The humanitarian quality of the Festival has been reflected in the fact that gate receipts and CD sales receipts have been given away to the humanitarian Madonna of Sinj Foundation, whose principal aim is to provide underprivileged students with financial support.
The Festival recording is broadcast on Croatian Radiotelevision (HRT) on the day of Assumption, and radio stations broadcast live and repeat the Festival via satellite in the home country and abroad. Albums from the 2009 and 2010 Festivals, edited by the record company Croatia Records, were nominated for the 2010 and 2011 Porin Award in the Best Spiritual Music Album category, whereas the album from 2011 Festival was nominated for the 2012 Porin Award in Best Harmony Singing Album. Other nominations at the 2012 Porin Awards ceremony included a composition performed by the Šufit klapa, Večernja, nominated for the Porin Award in the Best Harmony Singing Performance category, and a composition by Praska klapa, Zdravo Marijo, a nominee for the Porin Award for Best Folk Song.
The programme drawn up by the Artistic Committee of the Festival includes a new composition competition as well as compositions that are part of a valuable heritage of the songs dedicated to the Virgin Mary. The Committee also wishes to re-establish the present compositions through their adaptation for harmony singing. Not only compositions dedicated to the Virgin Mary, but also other compositions of spiritual value will be performed at the Festival, such as different types of mass, those contemporary as well as those that make part of the spiritual and church music heritage. Thus a repertoire will be made, of harmony-singing compositions, both those dedicated to the Virgin Mary and spiritual compositions in general.
This has been a truly exceptional musical event which has surpassed all expectations and become a moment of joyful gathering and celebrating the Mother of God. It has further established a reputation of the Town of Sinj as one of the greatest Marian sanctuaries.