Nijemo Kolo, silent circle dance of the Dalmatian Hinterland
Reading time: 1 - 2 minutes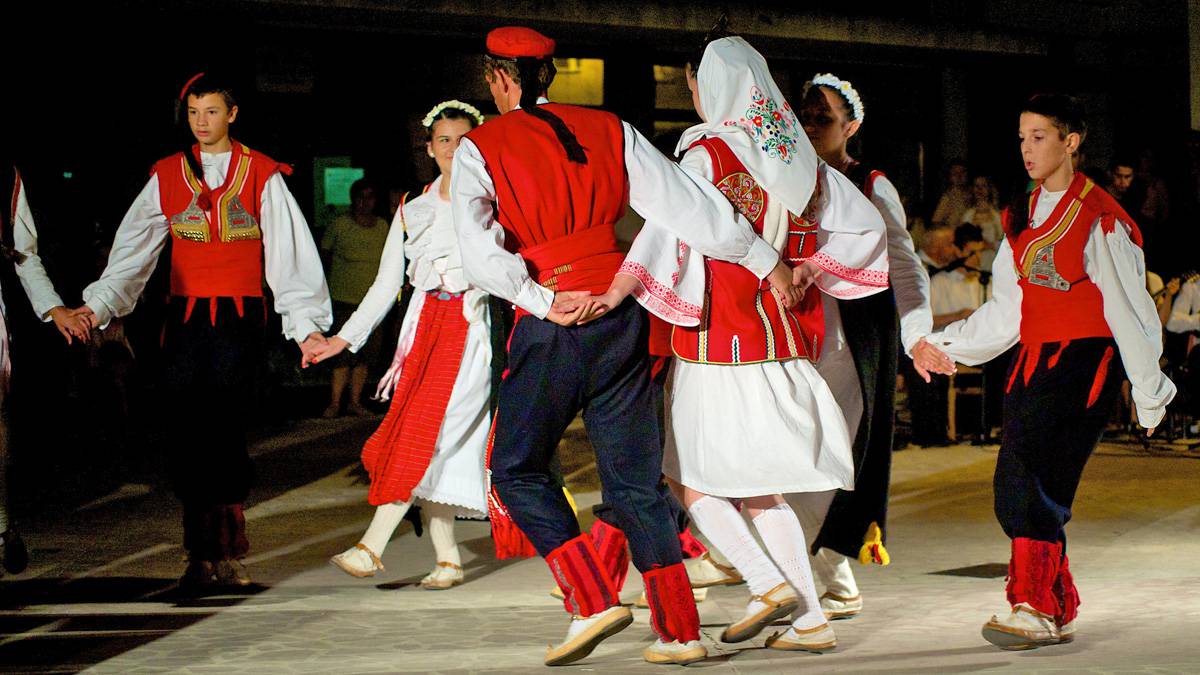 Branko Čović
The Nijemo Kolo, a silent circle dance from the regions of the Dalmatian hinterland, is characterised by a unique performing way. It is performed in a closed circle or, more often, with dancing pairs making circular or free movements in a dancing space, sometimes accompanied by the rera, ganga or ojkanje singing or the diple (twin-reed shepherd's flute) but in the Dalmatian hinterland almost exclusively without music. In the wider area the dance is only performed in a circle which makes the very performance of the Nijemo Kolo in the Dalmatian hinterland specific in comparison with the wider area (the Lika region, the islands of the Zadar and Šibenik archipelago, the Ravni Kotari area, neighbouring Bosnia and Herzegovina).
Over the last twenty years, in the town of Sinj and its greater area the Nijemo Kolo has been choreographed in stage terms, through which process its figures and movements have been standardised and fixed – all dancers perform simultaneously the same figures (hand gestures) and steps. Other villages of the Dalmatian hinterland have preserved the spontaneous performance of steps and figures as the older way of performing, according to which silent circle dances in certain villages can be distinguished. In addition to the famous name of nijemo kolo (silent circle dance), different communities use different names for the circle dance: mutavo kolo (mute circle dance), gluvo kolo (deaf circle dance), šuplje kolo (hollow circle dance), po naški (in our way of dancing), po starinski (in the old time style). The circle dance is also named after the place of origin so we have the Nijemo Kolo of Poljica Gata (from the village of Gata in the region of Poljica), the Nijemo Kolo of Vrlika (from the town of Vrlika and its immediate neighbourhood), the Nijemo Kolo of Sinj (from the town of Sinj and its greater area).
The Nijemo Kolo is performed even today, although less often than before, at carnivals, fairs, derneci, weddings, local, regional or international folklore festivals and at local shows on the occasion of the saint days of parish churches. It is still passed on from generation to generation through cultural clubs and folklore groups. Having recognised the value of the Nijemo Kolo of the Dalmatian hinterland, UNESCO included it in 2011 on the Representative List of the Intangible Cultural Heritage of Humanity.