Greda
Reading time: 1 - 2 minutes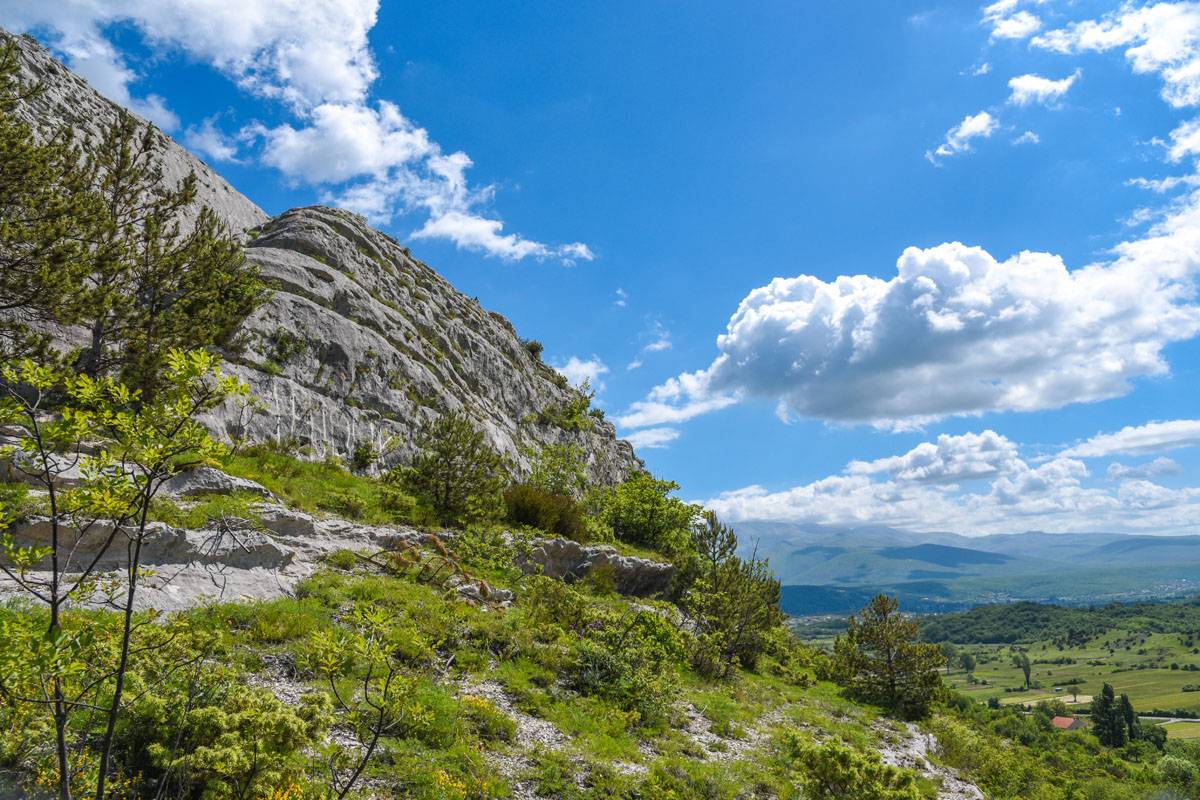 Željko Zrnčić
Greda is a unique biotope and an exceptional oasis of tranquillity, where you can take the opportunity to escape from the stress of everyday life. An ideal place to do sports or simply relax without being disturbed. The natural and fine sedimentary rock that is characteristic for the area is called muljika (mud) by the residents of Sinj.
Experts agree that the Poljakova greda and Šušnjevača mountains must be preserved and protected at all costs, due to the biodiversity, the breath-taking scenery as well as the unique geological and pedological characteristics. The vegetation in mountains dominated by siltstone cannot be compared with the vegetation in surrounding karst areas dominated by limestone. Biogeographically speaking the Greda mountains belong to the sub-Mediterranean climate zone. The tree vegetation consists mainly of downy oak and the oriental hornbeam. Under the tree crowns a dry grassland, which is typically found in south-eastern Europe, the Scorzonero-Chrysopogonetalia, has grown. This is another indicator for the rich plant habitat of the biotope.
Of particular note is the endemic floral species Dalmatocytisus dalmaticum, which is found exclusively on the rocky grasslands of these mountains. This species was first discovered on Poljakova greda in the 19th century and has been sighted again only a century later.
The strictly protected orchid species include: the three-toothed orchid (Orchis tridentata), the green-veined orchid (Orchis morio), the bug orchid (Orchis coriophora) and the wild gladiolus (Gladiolus illyricus). The endangered species include: the white swallow-wort (Vincetoxicum hirundinaria ssp. adriaticum) and the winter or mountain savory (Satureja montana). The geological characteristics of the soil are particularly suitable for the growth of heather (Erica manipuliflora).
Greda is especially a popular destination for climbing. The beautiful rocky landscape and the splendid mountain panorama make it an ideal climbing area for all age groups. Members of numerous mountaineering clubs and the Croatian Mountain Rescue Service (HGSS) often offer training and courses in mountaineering.
It is currently planned to improve the access roads, to construct a rest area, to establish climbing directions with handrails, and to set up signposts.